David Rodriguez and Victor Sanchez love natural wines. They enjoy them so much, in fact, that they'd be happy to turn their oenophilia into a full-time job. But when they first decided to collaborate on a natural wine business, at the beginning of the coronavirus pandemic, they didn't have most of the things people need to make it happen: start-up capital, a physical storefront, a vast wine collection, or even any real-world experience as sommeliers, farmers, or wine salespeople. All they had was their taste, politics, and enthusiasm. Luckily, that's enough to get started.
Last year, David and Victor opened their wine club, Bummer Wines, with an Instagram account, some basic web design skills, and a ton of research, organization, and initiative. Bummer is a monthly subscription service that promotes some of the most interesting, far-flung, under-the-radar, and tasty varietals on the market. Most importantly, David and Victor emphasize small-batch, minority-owned labels made in unexpected locales, especially Mexico and other parts of Latin America.
Wine rules. But wine also has weird rules attached to it: how to drink it, where to drink it, what makes it "good" or "bad." The criteria and context for quaffing and judging wine has an unshakeable association with rarefied groups of rich people. This perception of wine isn't just due to the effete snobs that drink it, but Big Wine — the corporate-adjacent vineyards in northern California and France and Italy that dictate the wine world. The most novel aspect of Bummer Wines is how it strips all these pretensions away. David and Victor know a ton about wine, but their expertise is imbued with strong doses of open-heartedness and generosity. They share their knowledge slowly, by offering two bottles a month, and select based on seasonality, ensuring that subscribers are getting wines at their peak season. The wines are also available for pick-up in Pilsen, offering easier access to South Side Chicagoans who don't have many nearby resources for exploring natural wine options.
On its website, Bummer says the wines it carries are "made without chemicals, pesticides, or any of the nearly 200 additives that are legally permitted in mass-market wine production." The mass-market wine you get at a big-box grocery store is likely to make you feel like a box of Franzia that's been sitting in the hot sun for a full day. Victor claims to have gotten a hangover only one time from drinking natural wine, and both have acknowledged how much better they feel than when they drink bottles from larger brands or distributors.
David and Victor have a genial, even-keeled rapport. They met at a "not-cool job years back" and had long wanted to collaborate on a project together. Around five or six years ago, Victor started getting into wine and went deep into the world of natural wine. He shared his enthusiasm with David, who was skeptical at first. Having grown up in the Bay Area and gone to college in Napa Valley, David thought that wine was "corny," but was persuaded to give natural wine a shot based on Victor's newfound dedication. With a background in art and photography, David found kinship with the "DIY vibe" of natural winemakers. "It felt more accessible than the typical way that I knew wine was made," he says. "These are artists or farmers making some cool stuff, and the labels reflected that as well. It was easier to get into."
It felt more accessible than the typical way that I knew wine was made. These are artists or farmers making some cool stuff, and the labels reflected that as well. It was easier to get into.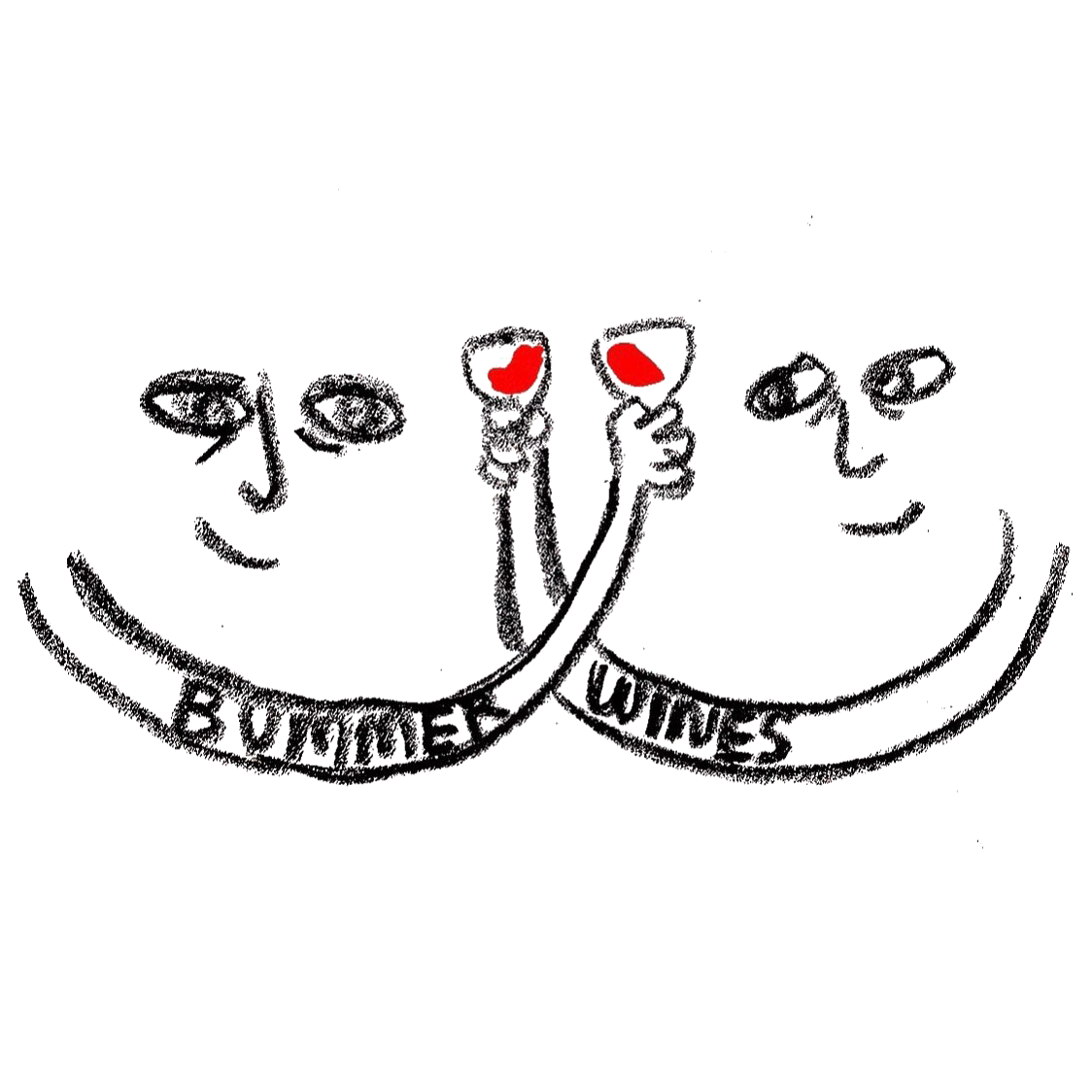 David and Victor acknowledge that there is a certain level of exclusivity to the natural wine world, but they feel like that has more to do with its followers' intense interest in what goes into their wine, rather than a fractured community of one-upmanship, like other niche sectors of alcohol enthusiasts. What Bummer Wines endorses above all else is transparency, both in the wines they carry and the interactions and transactions between producer, vendor, and consumer. And not in a heavy-handed way, Victor says. "At the end of the day, we want to keep things fun."
Bummer Wines ☞ Varyer ☞ Colston Biblio ☞ Bummer Wines ☞ Varyer ☞ Colston Biblio ☞
Smalls by Colston Biblio
It was because of Bummer's commitment to keeping things fun that we knew they'd be the perfect purveyors of Matty Colston's "Smalls", featuring designs by yours truly. Bummer's DIY selection of under-the-radar wines and highlighting of small-scale winemakers doing the most is more than familiar to columnist and winemaker, Matty Colston.

Matty is a sommelier turned vintner négociant, sourcing grapes from friends' vineyards to create bespoke limited-run wines marked by their rugged transparency and cultural temporality. When it comes to navigating contemporary wine production trends and pushing the envelope on fermentation styles and odd varietal blending, Matty has an encyclopedic knowledge.
A négociant is a winemaker that sources grapes from other vineyards, from which they produce their own wines.
Independently bottled and produced with grapes from the Willamette Valley, "Smalls" is a petit blanc made from a blend of early Muscat and Pinot Blanc. Initially, the Muscat was going to be on its own with the addition of the Pinot Blanc added to tame its aromatic nature, the co-fermentation of the grapes was a delightful diversion from that intent which resulted in a serendipitously balanced blend. The two varietals together yield layered dimensions that include the light floral quality of the Muscat and the acidity and structure of the Pinot Blanc, making it elegant and food-friendly.
We're incredibly pleased to work with Matty and Bummer to bring "Smalls" to Bummer Wines' September club which opens on September 1st. There will also be an opportunity to experience the food-friendly nature of Colston Biblio wines at Dusek's on Sept 30th when Bummer hosts their Unfiltered Pairings dinner series; tickets go on sale September 1st at dusekschicago.com.