Tucked into a moody, high-windowed corridor of the West Loop Asrai Garden is a desk arranged with not only technical equipment, but also a velvet-lined tray of sparkling, delicate chains and charms. This is the workspace of Melissa Roels, social media and digital marketing manager at Asrai Garden—and their forever jeweler.

Forever jewelry, also known as permanent or claspless jewelry, is soldered together. This process allows for omitting the clasp entirely for an elegant, unobstructed chain that can only be removed through the breaking or cutting of the chain. "We break apart one link and then solder it back together so that it's completely claspless," Roels explains. "It's made from 14-karat gold and should require no maintenance except for maybe some polishing, if you like a really sparkly bracelet or necklace. But other than that, it really just means that it's a piece of jewelry you keep on forever."

For some, the idea of forever jewelry can be a bit enigmatic: isn't the point of jewelry to be a temporary embellishment, something that can be swapped and selected from day to day? But Roels explains that, for many of her clients, there's a specific meaning and symbolism to the acquisition of a piece of forever jewelry. Some people come to celebrate major life events. Her very first client was celebrating a cancer-free diagnosis. "That was my most unexpected discovery, was that people were coming in for major life moments," Roels says. "So I always like to ask how their day is going, if they're here for a specific reason, and really hold space for that celebration and reverence."
When Asrai Garden identified that they'd like to start offering forever jewelry, Roels was intrigued by the idea. "I had my own creative practice through printmaking," she explains, "Which is kind of like a machine-meets-human art practice. So this felt really familiar to me, in a way." To initiate the learning process, Asrai contacted Dallas Maynard, a Chicago-based jeweler whose work is carried at Asrai Garden. Maynard articulated the process of cutting chain links, how metals behave when melted back together, and the need for flexibility when working with organic materials.

Despite its technical components, the process of forever jewelry is a fluid one: each metal and chain type behaves slightly differently when soldered back together—Roels keeps a cheat sheet on particular machine settings to reference as needed. The fact that the soldering spark is not always perfect on the first attempt is something that Roels has embraced as a beautiful part of the process: each bracelet and interaction is unique. "I think my entire adult life has been about deprogramming perfectionism, so it's been a really nice thing to do to help with that," she says.
✨⛓️✨⛓️✨⛓️✨⛓️✨⛓️✨⛓️✨⛓️ ✨⛓️✨⛓️✨⛓️✨⛓️✨⛓️✨⛓️✨⛓️
When it comes time to select the chain, charms, length, and placement, Roels views the process as entirely collaborative: while she's the facilitator, the client is the creative director, customizing the jewelry to their specific taste. No two pieces of forever jewelry are exactly alike.

Once the key decisions have been made, Roels breaks a link of the selected chain using wire cutters. This achieves the cleanest cut, which makes the rejoining the link with the soldering spark as strong and long-lasting as possible. As she maneuvers the chain into the correct position, she places a small square of black leather between the skin and the chain itself, both protecting the skin and increasing the visibility of the chain. Her arsenal of jewelry pliers, lent to her by a friend, allow for precise maneuvering of the delicate chains.
Roels also uses a jeweler's loupe and an OptiVisor to ensure the clearest view of the process. Her soldering station, which includes a stylus connected to a main unit, connects to a tank of argon beneath the desk that she turns on before each appointment.

After the chain is appropriately placed and the soldering iron set to the appropriate level for the chosen chain, Roels prepares for the main event: the soldering spark. This part of the process is admittedly thrilling—the iron creates a flash of light and quick crackling noise, a fun spectacle. She may repeat the spark once or twice more to ensure the strength of the now-unified chain.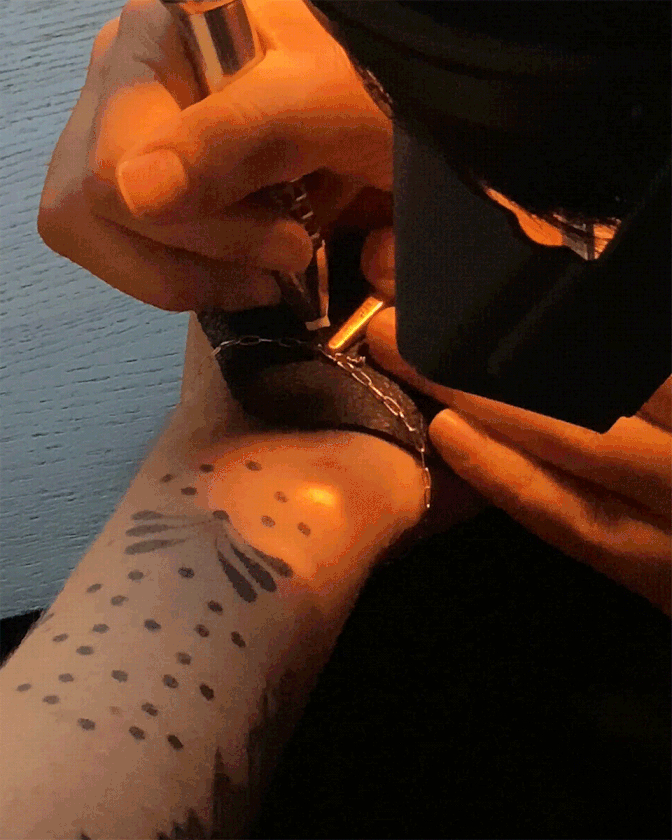 At this point, the jewelry is permanent: all that's left to do is admire your new accessory. If the chain somehow breaks (some people are harder on their jewelry than others, of course), clients can make another appointment to repair it. Roels explains that clients can also return to add charms, an offering that she is hoping to expand in the future—she encourages interested clients to direct message her on Asrai's Instagram account if they have any ideas for charms.

She explains that her work as a forever jeweler has opened up her way of seeing jewelry out in the world. Is that chain something that we should offer at Asrai Garden? How does this person's jewelry play into their personal style?

She sees potential for forever jewelry parties, with groups of friends coming in to celebrate birthdays, bachelorette parties, or just-because occasions. She even generously offers up the option for clasps to be added in the event of a member of the party looking for a little more flexibility in their accessorizing. There's something for everyone: "I can also do semi-permanent custom jewelry," she quips.